May 12, 2010 · Posted in
Energy
·
Comments Off
On the day of the late-April Valmont Coal Plant protest protest, the Camera talked to protester Tom Weis by cell phone – while he was standing on top of a pile of coal at Valmont. Weis and four others were arrested that day, but they're not done talking (or collecting funds for legal defense, for that matter).
Elephant journal recently talked to four of the Valmont Coal Plant protesters, Weis included, who are in hot water after trespassing on Xcel's property.
The plant is apparently on the chopping block, and has been the object of many a protest here in Boulder.
Waylon's interview with four of them is occasionally illuminating, and pretty long. A quick sample here and of course you can scan the rest over at elephant: Read more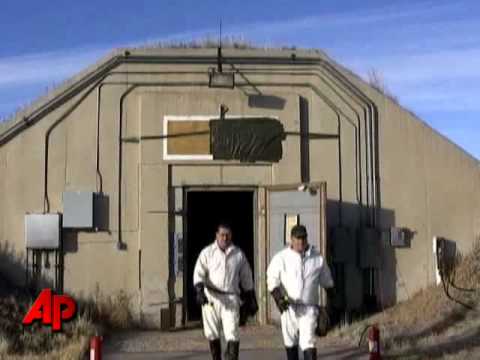 Another reason to set deadlines you can meet — if you don't, apparently you put yourself at risk of having to explode vicious chemical weapons in Pueblo, Colorado.
They're sitting there in the Pueblo Chemical Depot, "creating a safer tomorrow:" Read more
August 25, 2009 · Posted in
Energy
·
1 Comment
Greenies are fighting a proposed expansion of coal mines in Wyoming's Powder River Basin, which would feed new coal-burning power plants like the one planned by Xcel Energy outside of Pueblo.
This out today from the Associated Press:
Environmentalists are urging people to oppose the proposed expansion of Wyoming coal mines. They say the mines are the primary source of large amounts of greenhouse gas.

The U.S. Bureau of Land Management estimates that nearly 14 percent of U.S. carbon dioxide emissions originates from coal mined from Wyoming's Powder River Basin.

Wyoming produces more coal than any other state by far. Most is burned in power plants and scientists say such plants contribute to climate change by releasing carbon dioxide.
Xcel Energy is planning to crank up a new coal-burning generator at its Comanche power plant outside of Pueblo. The new unit — which is four times the size of Boulder's Valmont coal plant — will burn about 2 million tons of Powder River coal every year.
Boulder's Leslie Glustrom, founder of Clean Energy Action, has been fighting the Comanche expansion tooth and nail. Check out the fact sheet she made up on the new coal-burning unit at CleanEnergyAction.org.