While it pales in comparison to the environmental devastation caused by the BP oil spill in the Gulf, oil is spilling in Colorado, too.
The Colorado spill is really spills — thousands of them that have spilled millions of gallons over the last 2.5 years.
From a story in this week's Denver Post:
Oil and gas companies have reported almost 1,000 spills to Colorado regulators over the past 2 1/2 years, totaling 5.2 million gallons of drilling liquids and oil.

They ranged from small oil leaks from half-closed valves to thousands of barrels of tainted water that escaped from pits.

It's far from the volume of oil now shooting into the Gulf of Mexico, but a Denver Post analysis of state spill reports shows that even far from offshore, drilling for oil can regularly create unintended messes.
Read the full story at DenverPost.com.
There's a current in the Gulf of Mexico that's kind of squirrely. Sometimes it flows north. Sometimes it flows south. Sometimes it breaks off into an self-contained eddy.
But no matter what it does, it's pretty much inevitable that the current, known as the Loop Current, will end up carrying the oil that's now hemorrhaging into the Gulf of Mexico to the tip of Florida, according to a Boulder scientist. And then — in what appears to be the blink of an eye — that oil will be off and running up the Atlantic coast and into the open ocean. (The Gulf Stream, which flows along the coast of Florida up to North Carolina, is practically flying compared to waters in the Gulf.)
Check out a computer-model simulation created by the National Center for Atmospheric Research… and prepare to feel ill.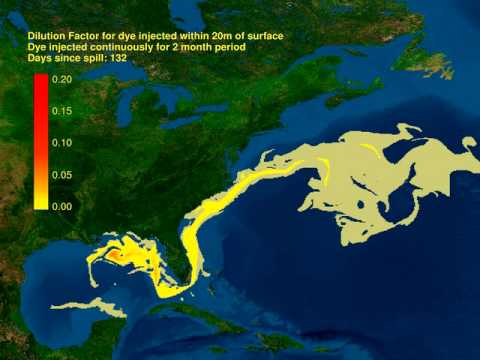 To learn more about the modeling of how the oil might move, go to www.dailycamera.com.