March 25, 2010 · Posted in
Energy
·
1 Comment
Thin-film solar technology is potentially lighter and more portable than your average solar panel. It's frequently described as something you can "print" onto building materials or, as in the video I've embedded here, as a "label" — peel the backing off and stick it to something. (But, unlike Lisa Frank stickers, it absorbs light, rather than blinding passersby with it.)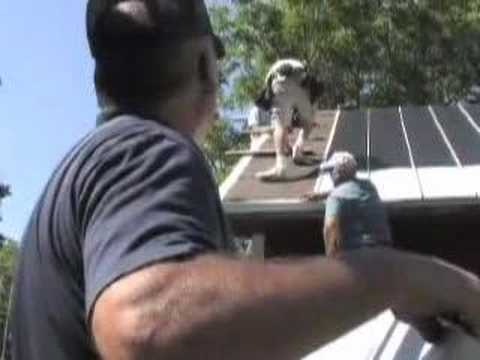 It's been around for a long time, but it's a challenge to make thin-film solar efficient.
That's why NREL has built a robot that can not only build thin-film solar but also analyze it:
As renewable energy technology gains momentum as a viable replacement for burning fossil fuels (thanks largely to environmentalists concerned about the toxins and the carbon dioxide spewed by coal plants), opposition is also starting to grow — from other environmentalists.
In order to replace a utility-scale coal plant, renewable energy projects may also have to be, well, utility scale. And for solar plants, that may mean covering thousands of acres of land with mirrors or PV panels. This has some environmentalists concerned about how those panels will affect local ecosytems.
Now, biologists from the National Renewable Energy Laboratory have begun a three-year study to look at how the land under solar panel arrays — which is typically graded, stripping the earth of its native vegetation — can be restored. Read more
August 21, 2009 · Posted in
Energy
·
10 Comments
The National Renewable Energy Laboratory has added the first of two super-sized wind turbines to its research center in southern Boulder County.
Already, more than a dozen wind turbines — from graceful lattice-mounted units with 2-kilowatt capacities to hulking white turbines from the mid-1980s that can crank out 600 kilowatts — stand facing into the wind gusting off the foothills at the National Wind Technology Center.
The new turbine, which is rated at 1.5 megawatts, will allow reserachers to tinker with a type of turbine that is becoming widely used at wind farms across the country. The second turbine, which will be added later this fall, will be even bigger at 2.3 megawatts.
Read more about the National Wind Technology Center's new turbines at dailycamera.com or learn about Center for Research and Education in Wind, a new collaboration betwen researchers at the Universtiy of Colorado, Colorado State University, the Colorado School of Mines and NREL.