Never seen a wolverine? You're not alone. Wolverines are very, very, very hard to find. They're shy, for one thing, and they're loners. They can travel for hundreds of miles over a few weeks, and roam through some of the harshest alpine environments.
But it may soon become even harder to see one. If we don't reduce carbon emissions, the spring snowpack where female wolverines build their dens to have their young will disappear by the middle of this century — and so will the baby wolverines (called kits).
A scientist at the National Center for Atmospheric Research in Boulder did the study that showed these depressing results. Read more about it at DailyCamera.com.
There's a current in the Gulf of Mexico that's kind of squirrely. Sometimes it flows north. Sometimes it flows south. Sometimes it breaks off into an self-contained eddy.
But no matter what it does, it's pretty much inevitable that the current, known as the Loop Current, will end up carrying the oil that's now hemorrhaging into the Gulf of Mexico to the tip of Florida, according to a Boulder scientist. And then — in what appears to be the blink of an eye — that oil will be off and running up the Atlantic coast and into the open ocean. (The Gulf Stream, which flows along the coast of Florida up to North Carolina, is practically flying compared to waters in the Gulf.)
Check out a computer-model simulation created by the National Center for Atmospheric Research… and prepare to feel ill.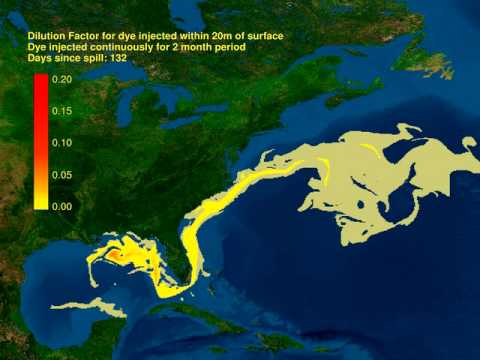 To learn more about the modeling of how the oil might move, go to www.dailycamera.com.
Earth Day falls on April 22, but throughout the month there will be no shortage of fun ways to get involved and celebrate Earth Day's 40th anniversary. After the jump, we've collected some cool events going on throughout Boulder County, from right now through the end of the month: Read more
In the early 70s — when the media rarely addressed the far-out notion of climate change (or if they did, they put quotes around phrases like "the greenhouse effect") — scientists at Boulder's National Center for Atmospheric Research were beginning to realize that people (insignificant though they generally seemed) might be able to impact the global climate.
A 1972 article in the Daily Camera "NCAR, Others Will Study Man's Effects on Shaky Equilibrium of Earth Climate" appears to be one of the first in the Boulder newspaper to tackle the idea that humans might be able to drive the world to some sort of climatic tipping point.
NCAR scientist William Kellogg said this in the article:
There are obviously stabilizing factors that are strong enough to keep our global climate within reasonably narrow bounds, permitting ice ages to come and go, but damping out any large fluctuations.

But, now, man has entered the scene, and we must ask whether he can reach any of the lever  points on this gigantic environmental mechanism and influence it. If there are any lever points that he can reach, history has shown that he will probably be tempted to tamper with them.
The article didn't talk much about greenhouse gases, other than to mention a growing "carbon dioxide blanket" that had the potential to warm the Earth. Read more
When thousands of emails between many of the world's most prominent climate scientists were stolen from East Anglia University in Britain and then posted on the Internet — launching the "climategate" controversy — several local scientists found themselves in the hot seat.
Kevin Trenberth, head of the Climate Analysis Section at the National Center for Atmospheric Research in Boulder, has been particularly hard hit for this e-mail:
Well I have my own article on where the heck is global warming ? We are asking that here in Boulder where we have broken records the past two days for the coldest days on record. We had 4 inches of snow. The high the last 2 days was below 30F and the normal is 69F, and it smashed the previous records for these days by 10F. The low was about 18F and also a record low, well below the previous record low….

The fact is that we can't account for the lack of warming at the moment, and it is a travesty that we can't. The CERES data published in the August BAMS 09 supplement on 2008 shows there should be even more warming: but the data are surely wrong. Our observing system is inadequate.
While the climategate controversy seems to be winding down — or at least quieting down — on the national stage, Trenberth's comments are still being bandied about in the editorial section of the Daily Camera. Read more
It's cold — tooth achingly, face numbingly frigid.
In Boulder, the average high temperature in December was about six degrees cooler than normal, and so far this season the city's been pounded with 70 inches of snow, roughly twice the average.
But this doesn't mean climate change isn't affecting Colorado, threatening our snowpack, agricultural lands and water supply, according to local climate gurus.
Beijing had its coldest morning in almost 40 years and its biggest snowfall since 1951. Britain is suffering through its longest cold snap since 1981. And freezing weather is gripping the Deep South, including Florida's orange groves and beaches.

Whatever happened to global warming? Such weather doesn't seem to fit with warnings from scientists that the Earth is warming because of greenhouse gases. But experts say the cold snap doesn't disprove global warming at all — it's just a blip in the long-term heating trend.

"It's part of natural variability," said Gerald Meehl, a senior scientist at the National Center for Atmospheric Research in Boulder. With global warming, he said, "we'll still have record cold temperatures. We'll just have fewer of them."
Boulder has gotten another federally-funded science organization.
The National Ecological Observatory Network, or NEON, has chosen Boulder as home, making it neighbors with the National Center for Atmospheric Research, the National Oceanic and Atmospheric Administration, the National Institute of Standards and Technology — and then there are all those reserachers at the University of Colorado who get reseach funding from the feds.
From today's Daily Camera:
Now, the National Ecological Observatory Network, or NEON, is a relatively modest operation headquartered on Airport Road and employing about 60 scientists, engineers and project managers.

But if the network's request for nearly a half-billion dollars in funding from the National Science Foundation comes through this winter, the organization will be able to quadruple its size and start deploying a continent-wide web of observatory towers that can collect data about climate and atmosphere, soils and streams, and a variety of plants and animals.

U.S. Rep. Jared Polis, D-Boulder, visited the NEON offices Wednesday morning and took a tour of the network's first test tower, located at Table Mountain just north of town.

"This is going to be exciting," Polis said as he looked up at the test tower, laden with machines that can record wind speed, temperature and dust levels, among other things. "Let us know how we can help. We're here to be a resource."
Read the full story at DailyCamera.com.