In the last several years, the city and county of Boulder have been working to reduce their greenhouse gas emissions. But it's possible they've forgotten one significant source of carbon: the frozen dead guy who's kept in a Tuff Shed in Nederland. Read more
In the early 70s — when the media rarely addressed the far-out notion of climate change (or if they did, they put quotes around phrases like "the greenhouse effect") — scientists at Boulder's National Center for Atmospheric Research were beginning to realize that people (insignificant though they generally seemed) might be able to impact the global climate.
A 1972 article in the Daily Camera "NCAR, Others Will Study Man's Effects on Shaky Equilibrium of Earth Climate" appears to be one of the first in the Boulder newspaper to tackle the idea that humans might be able to drive the world to some sort of climatic tipping point.
NCAR scientist William Kellogg said this in the article:
There are obviously stabilizing factors that are strong enough to keep our global climate within reasonably narrow bounds, permitting ice ages to come and go, but damping out any large fluctuations.

But, now, man has entered the scene, and we must ask whether he can reach any of the lever  points on this gigantic environmental mechanism and influence it. If there are any lever points that he can reach, history has shown that he will probably be tempted to tamper with them.
The article didn't talk much about greenhouse gases, other than to mention a growing "carbon dioxide blanket" that had the potential to warm the Earth. Read more
Driven by the desire to localize the issue of climate change, a former editor of High Country News compiled a book of essays by locals illustrating what a warmer climate means for Colorado.
On Monday evening at the Boulder Bookstore on Pearl Street, nine of the contributors of the book read parts of their essays from, "How the West Was Warmed:  Responding to Climate Change in the Rockies," published in November and edited by Beth Conover.
"I had an opportunity to convene views and speak to the locality and diversity of climate change in Colorado," said Conover, who also worked as an environmental policy advisor from 2004 to 2007 for Denver Mayor John Hickenlooper and helped develop the largest urban sustainability program, Greenprint Denver.
Mayor Hickenlooper provides the foreword to a book filled with essays about trash scavenging, recycling, pine beetles, water scarcity, eco-tourism, hitchhiking, renewable energy and Iraq veterans working to train fellow veterans in green jobs.
A former environment and science reporter at The Boulder Daily Camera, Todd Neff, wrote the essay "Getting the Fever," which examines the driving effect fear can have on making changes to lessen impacts on the environment. Read more
It's cold — tooth achingly, face numbingly frigid.
In Boulder, the average high temperature in December was about six degrees cooler than normal, and so far this season the city's been pounded with 70 inches of snow, roughly twice the average.
But this doesn't mean climate change isn't affecting Colorado, threatening our snowpack, agricultural lands and water supply, according to local climate gurus.
Beijing had its coldest morning in almost 40 years and its biggest snowfall since 1951. Britain is suffering through its longest cold snap since 1981. And freezing weather is gripping the Deep South, including Florida's orange groves and beaches.

Whatever happened to global warming? Such weather doesn't seem to fit with warnings from scientists that the Earth is warming because of greenhouse gases. But experts say the cold snap doesn't disprove global warming at all — it's just a blip in the long-term heating trend.

"It's part of natural variability," said Gerald Meehl, a senior scientist at the National Center for Atmospheric Research in Boulder. With global warming, he said, "we'll still have record cold temperatures. We'll just have fewer of them."
Maybe the message that global warming will cause large-scale displacement of people in Bangladesh doesn't really resonate with you.
Perhaps the fact that coral atolls in the Pacific — whole countries like Kiribati  and Tuvalu — are predicted to be completely consumed by sea level rise doesn't really concern you.
But maybe this little fact about global warming will hit home with you: climate change = less power, a shorter ski season and fewer resorts.
That' the hope of a Boulder-based group called Protect Our Winters, or POW, that's hoping to motivate the winter sports community to do something about global warming.
Check out the video above to get a feel for their message, visit the group's Web site, or read more about Protect Our Winter's efforts at DailyCamera.com.
With the United Nations climate change conference under way this month in Copenhagen, many journalists face the challenge of covering an extremely complex issue. To help journalists — and anyone else who is curious — understand climate change, Tom Yulsman, an associate professor at the University of Colorado's School of Journalism & Mass Communication, has created a free, four-hour, online course titled "Covering Climate Change."
In today's Daily Camera, James Collector asked Yulsman five questions about the science of climate change and how journalists are covering it:
1. What exactly is the climate change debate?

There is no one debate. Reporters fall into this trap, and readers fall into this trap of accepting that there is just one debate. There's science, and there's policy. Within science, there are dozens of debates about the various risks that we can expect over the future. There's not terribly much debate on the big question whether humans are causing climate change. There's pretty robust agreement on that. Within policy, there are all sorts of debates. There are even debates about how should science inform policy-making decisions.
Read the rest of the interview at DailyCamera.com, or read Yulsman's blog at CEJournal.net.
Students from the University of Colorado who participated in a class on film and climate change will screen their own global warming flicks tonight on campus.
Matthew McAllister flips off the lights when he leaves his dorm room. He refills his water bottle instead of buying plastic ones, and he rations himself one paper towel when he dries his hands.

But a single flight to Washington, D.C., that he took this semester for a political science course canceled out his efforts, the University of Colorado student says.

He calculates that he would need to recycle 708 aluminum cans to offset his portion of the carbon dioxide emitted by the plane.

"While I would like to think these small, conscious efforts make a difference, the truth is I know they don't," McAllister says.

For a course on film and climate change, McAllister produced a short video about the challenges he has with his carbon footprint, as well as environmental equality. (His portion of CO2 for the plane trip was about the same amount that an average person in Tanzania uses all year).
Read the full story at DailyCamera.com.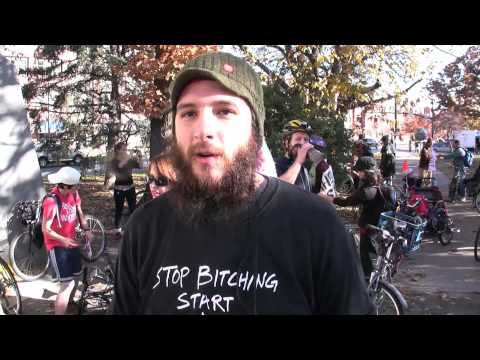 Hundreds of folks turned out this weekend on their bikes and rode from downtwon Boulder to the Valmont coal plant as part of the "Power Past Coal" rally.
The event was one of more than 4,500 organized across the world as part of the 350.org global campaign.
Eric Robbins rode to Boulder's Central Park on Saturday with a battery-powered amplifier strapped to the back of his Schwinn bicycle. The Beatles' song "All You Need Is Love" blared from his speaker into a crowd of more than 200 cyclists busy chanting "power beyond coal."

"We need to put an end to coal and promote the use of renewable energy," Robbins said, preparing to ride to the Valmont power plant in east Boulder to raise awareness of global climate change and voice support for the plant's closing. "It would be nice if this plant became a wind farm or a solar installation." Read more
In the future, there may be fewer snow-capped peaks to gaze at in Rocky Mountain National Park.
The meadows on the west side of the park may change as the climate warms and dries, making them less hospitable to moose and pine martens, and aspens across the park may disappear along with the plants that call the tundra home.
These are the dire predictions of a report released yesterday by the Rocky Mountain Climate Organization and the Natural Resources Defense Council, which called climate change "the greatest threat ever" to national parks.
The report, called National Parks in Peril, listed the 25 parks most at risk of climate change and included two in Colorado: RMNP and Mesa Verde.
From the report's Colorado fact sheet:
Mesa Verde is vulnerable to a loss of water, more downpours and floods, a loss of plant communities, a loss of wildlife, and a loss of cultural resources. Rocky Mountain is vulnerable to a loss of ice and snow, a loss of water, more downpours and floods, a loss of plant communities, a loss of wildlife, more crowding, a loss of fishing, and more air pollution. Other parks in Colorado, including Black Canyon of the Gunnison National Park, Great Sand Dunes National Park and Preserve, and Dinosaur National Monument, face similar vulnerabilities. Read more
Foresters are still puzzling over why aspens in the Rocky Mountains are dying, a phenomenon that scientists are calling "sudden aspen decline," or SAD.
But whatever the reason — many are blaming the added stresses of climate change — the situation doesn't look good.
In Colorado, the number of acres with sick aspens — which drop their leaves, are ravaged by insects and can't reproduce — has quadrupled between 2006 and 2008 to more than 850 acres, according to an article published by Reuters.
"What we think will happen is that aspen will disappear in some areas and there will not be anything we can do about it," said SAD expert Wayne Shepperd of Colorado State University.

A study by scientists with the federal Rocky Mountain Research Station in Moscow, Idaho presented just such a scenario. It predicted the near total disappearance of aspen in the Rocky Mountain region by 2090.

The research, to be published in Forest Ecology and Management, links ailing aspen to global climate change and concludes that up to 41 percent of Western forests would be unable to support aspen by 2030. That figure would rise to 75 percent by 2060 and as much as 94 percent in 2090.
Read the full story at www.reuters.com, check out information from the U.S. Forest Service about sudden aspen decline, or learn about what Boulder County is doing to preserve aspen stands after the jump. Read more