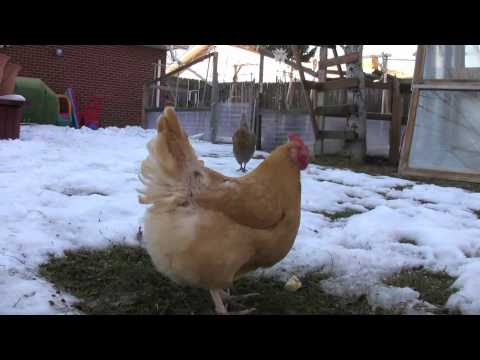 After Longmont starting issuing permits last year to allow residents to raise their own chickens, many people, like Melissa Held, jumped at the opportunity to form a closer relationship with their food and where it comes.
While Longmont has seen few problems with urban chickens, a story in the Daily Camera shows that raising chickens may be more complicated than expected: Read more
December 8, 2009 · Posted in
food
·
Comments Off
Some students at the University of Colorado are demanding that the school purchase all its eggs from vendors that let their chickens run free.
CU says the switch would cost them at least $70,000, which would be hard to justify in the current economic climate.
The Partnership for Animal Welfare group has gathered more than 1,000 student signatures asking that CU start buying cage-free eggs because the battery cages are so cramped that hens can't even spread their wings, according to CU student Suzanne Spiegel.

On average, each caged laying hen is given 67 square inches of cage space, which is smaller than a single sheet of letter-sized paper, according to the Humane Society of the United States.
Read the full story at DailyCamera.com.

Charring chicken poop probably won't save the planet on its own, but some people think charring fowl manure along with beetle-killed pine trees, corn husks and other organic matter might be an important weapon in the war on greenhouse gases. And a lot of the people who think that are hanging around Boulder this week.
Wednesday wraps up the first-ever North American Biochar Conference, which was hosted by the University of Colorado's Center for Energy and Environmental Security.
Biochar — a fancy name for charcoal, more or less — is what's left when organic matter is burned in a low-oxygen environment. And when you don't have oxygen, you can't make carbon dioxide. So after the burn, you're left with biochar, which stays stable for a thousand years, locking up that pesky globe-warming carbon in a big black chunk. And as a bonus, the biochar makes an excellent fertilizer when added to agricultural fields. Read more