So gas prices are going up. Again.
That means it's time to start thinking about alternate means of transportation.
How will you be getting from Point A to Point B?
We want to know … so tell us!
We like bikes here in Boulder. Some of us use them to get in a great workout. Others pedal to and fro to wherever they need to be. And those who drive are typically kind enough to share the road.
We're proud of this bike-laned land we call home. But are bike lanes good enough? Advocates of cycle tracks don't think so.
Question: So what the hell is a cycle track?
Answer: It's a completely separate lane for bikers protected by a curb or a concrete barrier.
The cycle track is an idea we Americans have adopted from our neighbors across the (big) pond in Europe. The cycle track makes biking super safe, but building them might mean adding a lot more cement to our beautiful city.
So what do you think? Are Boulder's bike paths extensive enough, or do we need cycle tracks as well?
Read more about them at Grist.com in Elly Blue's article, "Cyclists shouldn't 'share the road,' they should have their own."
OK, so the photos the official photo guys took are far better. Er, not that those people are better looking … just that … well …
I'm just going to stop while I'm ahead.
Here are a few more shots (obviously taken before yesterday's snowstorm). Want more info on the event? Read more
Hey! It's a guest post from Deanna Williams, USFS Wildlife Biologist & Angela Mundt, USFS Wildlife Technician!
This spring, as the skis get put back in the garage and the mountain bikes get dusted off, Boulder Valley 5th graders have a message for local bikers, motorcyclists, and horse riders: Please stay on designated trails! That unmarked path may be tempting, but it might be causing serious damage to the land and our drinking water.
The Boulder Ranger District, of the Arapaho-Roosevelt National Forest, is enlisting local 5th graders to promote watershed protection, local wildlife conservation, and trail rules/etiquette. Selected artwork from the 2010 Student Wildlife Art Contest will be recognized here at BigGreenBoulder and incorporated into new educational trail signs on the Arapaho-Roosevelt National Forest.  
The art contest was inspired during efforts to repair and restore several miles of undesignated trail that was damaging a sensitive streamside area that runs east of the Peak to Peak Highway. Heavy use of these trails damaged plants, disturbed wildlife trying to raise young, and introduced sediment and pollutants into the Boulder Creek watershed.
Fifth graders participating in the contest are designing artwork around 3 themes: Read more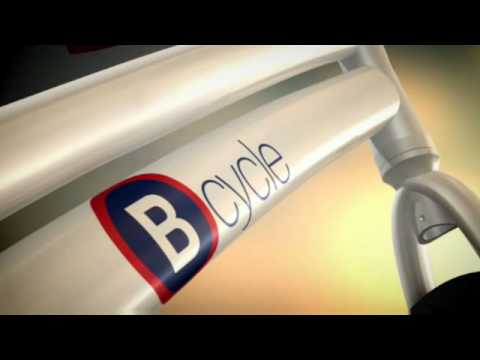 Biking around Denver is about to get cooler and easier. This Earth Day, April 22, Denver will be the launching point for B-cycle's bike sharing program. From 8 a.m.-9 a.m. you can join Denver Mayor John Hickenlooper and Jonny5 of Denver musicians Flobots at the Civic Center Park for Denver B-cycle's Earth Day Launch Event. Read more
It was six decades ago that Owen Hook fell in love with the shining bicycle in his local department store window.

But today, the Raleigh push bike is still going strong.

Mr Hook, 72, who paid for the top-of-the-range, three-speed Raleigh bike in 36 monthly installments of just ten shillings (50p) 57 years ago, said yesterday that it showcased British craftsmanship at its best.
Pretty impressive, but surely it didn't come without a little work. I've been tempted to take a class with Community Cycles for just that reason. The next six-week bike mechanics course starts March 3.
We're thinking about bikes this week because it's sunny again, so here are some quick and sometimes slightly inflammatory* thoughts on bike stereotypes from Bicycle Film Fest organizer Jen Nordhem (cool trailer, Jen!):
Stereotype: Critical Mass is for anarchists

JN: Critical Mass has anarchist roots, as far as it being a take-back-the-streets kind of mentality, but I don't think it's necessarily just for anarchists. Politically, I think it's a great idea, as long as people don't take it too far and it stays as like, "We're here. We ride the same streets as you. We are traffic as well." But it doesn't go into like, "Now I'm going to U-lock your window." That's a bit extreme. I remember when I lived in Chicago, one of my friends told me this story about this father with a little tagalong bike with his daughter on it who rode [Critical Mass] every month, and that was his way of introducing bicycles to his daughter. It's really just a celebration of bicycles.
via Stereotyping cyclists: A Bicycle Film Fest organizer responds | Features | | A.V. Denver/Boulder.
*Bikes blowing through stop signs is quite inflammatory, and it's mentioned elsewhere in the A.V. Club post. If you don't believe me, check out comments on the Camera!
Hybrid drivers who've been allowed to drive in HOV lanes are on a month-to-month extension, according to the Denver Post:
Federal transportation law allowed for the hybrid-in-HOV option, but that law expired on September 30. After Congress passed a one-month extension of the law, CDOT notified hybrid owners that permission to use HOV lanes as solo drivers had been extended through the end of this month.

To allow hybrid drivers similar access to HOV lanes after this month, "Congress will need to act again on another extension or new bill," CDOT said in a recent email to hybrid permit owners.
Of course, if you're carpooling in a hybrid, you're definitely fine.
And if you carpool on a bike, you're awesome. Tandems for everybody!
I will admit that when I moved back to Boulder from Brooklyn, I did not move in a particularly green way.
No, I loaded my stuff into somebody else's 53-foot truck (along with the belongings of many other people — I don't have that much stuff), and it was driven here to Boulder. Then I got on a plane and flew here.
That's why, on this fine #ecomonday, I feel like a green wuss; I didn't move by bike. Dan at Community Cycles wants it to catch on in Boulder, and the lead story on the Camera's local page features this big photo of some Boulderites lugging an apartment's worth of stuff from Boulder to Gunbarrel (seven miles):
That's right: they moved by bike. That's a pretty awesome degree of self-sufficiency. More details and tips on doing it yourself after the jump. Read more
The proposed 30th Street bike path that has been causing a bit of a stir in Boulder — some folks are upset that it would require taking down a few trees — has hit a new controversial milestone. The city, unable to buy land for the proposal from a business there, has filed an eminent domain petition.
The Camera has the full story on the bike path eminent domain development, and here's the quick-hit update: Read more