President Barack Obama has recently announced a federal loan guarantee to Abound Solar, a Loveland-based company that has a manufacturing facility in Longmont.
The company, which employs 360 people in Colorado and manufactures thin film solar panels, will nearly double its employee base in the state, Abound Solar spokesman Mark Chen said.

He said it's not yet clear exactly how the new jobs will break down between Abound Solar's Longmont production facility, its headquarters in Loveland and its research lab in Fort Collins.

But he said Longmont would most likely be the biggest beneficiary since the bulk of production is done in the city. The company will be able to add two production lines to the one it already has in Longmont as a result of the loan guarantee, Chen said.

The White House said the project marks the first time this new manufacturing technology for Cadmium-Telluride panels will be deployed commercially anywhere in the world.

It will produce photovoltaic panels using an innovative process in which thin films of Cadmium-Telluride are deposited onto the glass panels, according to the White House. The technology reduces overall product costs.
Abound Solar is a member of PV Cycle, an organization dedicated to creating "truly sustainable energy solutions that take into consideration the environmental impacts of all stages of the product life cycle, from raw material sourcing through end-of-life collection and recycling."
Learn more about the Abound Solar expansion in Longmont and the federal loan guarantee at the Camera.
-Hannah Gentry
March 25, 2010 · Posted in
Energy
·
1 Comment
Thin-film solar technology is potentially lighter and more portable than your average solar panel. It's frequently described as something you can "print" onto building materials or, as in the video I've embedded here, as a "label" — peel the backing off and stick it to something. (But, unlike Lisa Frank stickers, it absorbs light, rather than blinding passersby with it.)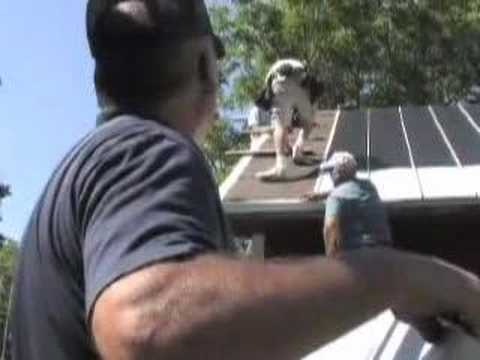 It's been around for a long time, but it's a challenge to make thin-film solar efficient.
That's why NREL has built a robot that can not only build thin-film solar but also analyze it: