You are viewing the archive for the G.I.Y. category.
---
This looks like a very cool project. I feel like a sucker for buying these at a store (even though they were half off). Get some green in your home with these DIY upside-down planters!
i have had my eye on the sky planters by boskke since christmas time; something about upside down plants really strikes me as beautiful and intriguing. but i am low on funds, so i decided to try making my own with leftover containers from the various food items that make their way through my kitchen.
via DesignSponge and Lifehacker.
Here's the design for Boulder Walk and Bike to Work Month 2010. Warmer weather means that every day can be walk or bike to work day, but we're all about bringing it to people's attention for the month of June.
Boulder's 34th annual Walk & Bike Month will feature 80 activities this year, beginning in late May and culminating in the annual Bike to Work Day on June 23. Last year, more than 7,500 people turned out for Bike to Work Day. Organizers estimate that 9,000 riders and walkers will participate this year.
The Camera has information on the designer of the T-shirts for Boulder Walk and Bike to Work Month 2010.
Wow — I just found out that a great book for the urban gardener, "Fresh Food from Small Spaces: The Square Inch Gardener's Guide to Year-Round Growing, Fermenting, and Sprouting," is on Google Books!
Some of it, anyway. R.J. Ruppenthal is somebody who graciously sent content to me when I worked at HuffPost Green (like this great post on how to grow strawberries) and his book is just great. I own a copy of it, and I recommend folks buy it if they're into the idea of growing food in their small spaces, but hey — want to try a little under half of the book for free? Here are 76 pages of it (link here for larger version):
And of course no post about a Chelsea Green book would be complete without thanking my friend Jesse for introducing me to a lot of their materials when he was a Web and publishing genius there. Now he's a Web and publishing genius on his own. (Hire him.)
Hey! It's a guest post from Melanie M. Sidwell!
I like new clothes (but hate shopping). I also like free things (who doesn't?). I'm a working parent flying solo these days with little time, patience, and funds to hit the mall, so when I was introduced to the idea of a clothing swap, I was immediately on board.
Why? A clothing swap puts into action "Another (wo)man's trash is another (wo)man's treasure," truly making this living green lifestyle thingy very fashionable.
We've all been there, staring at the closet overloaded with clothes but have nothing to wear. A swap brings together your friends and their unwanted, misguided fashion choices for scoring free new-to-you finds, as well as a chance to socialize and do social good.
I've been to a few swaps, both held amongst friends in their homes and open to the public events; recently I hosted one at my home with ladies I love. Here are some tips to get you swapping: Read more
The weather is seesawing between blankets of snow and mind-numbingly beautiful, sunny days. You know what that means — time for some green spring cleaning. GOOD has instructions on how to make a lot of cleaning products so you don't have to get the bottled stuff with ingredients you can't pronounce. For example:
Tubs, countertops, and sink scrub. Mix baking soda with a bit of castile soap (like Dr. Bronner's). You can add an essential oil for fragrance if you'd like. Scrub and rinse.
Read on for more on how to make your own cleaning supplies. Read more
In a city where there are tons of renters, it's tough to motivate people to spend money on saving energy. That's part of why the University of Colorado's Environmental Center is helping students living off campus chip away at their energy bills by visiting their homes to show them how:
Hosted by CU's Environmental Center, Student and Community Outreach for Renter Efficiency — or SCORE — teaches students living in certain Boulder neighborhoods how to lower their energy bills by making their homes more efficient through simple and inexpensive adjustments, such as using energy efficient light bulbs or setting thermostats to optimal temperatures. Read more
We were just talking about this in the office and, sure enough, it comes up in the news — Coloradoans might have a way to say no to phone books if one state rep has anything to say about it:
Democratic Rep. Mark Ferrandino is looking at two possibilities to help people whod rather look up a number online or dont want multiple books.One would set up a registry of people who want to permanently opt out, an approach similar to the do-not-call list. The other would require each directory publisher to allow people to opt out for at least five years online and post the Web address on the front of each book.
Sorry we didn't get this posted earlier, folks, but here's some notice in case you've got the evening free –
CU's Career Services will host a green career panel at 5 p.m. Tuesday in Eaton Humanities, Room 1B50, to help students interested in joining the industry find their edge and break into the growing market. Panelists include speakers from the Colorado Department of Transportation, the Boulder Green Building Guild and the Governor's Energy Office.

Colorado's renewable energy and energy efficiency industries created more than 91,000 in-state jobs in 2007 and generated $10.2 billion in annual revenue with the potential for the industries to grow sixfold by 2030, according to the American Solar Energy Society.
Read more at the Colorado Daily.
As for us, we'll be at Bacaro for Green Drinks Boulder tonight. See you there!
I just asked our Facebook fans if they were missing bike-all-the-time-weather as much as I was. It's pretty sleepy over there today (where are you guys?)!
Still, this story on taking care of your car so it'll take care of your pocketbook seemed timely, since we're stuck with four wheels for now:
A properly tuned car can improve its gas mileage by an average of 4 percent. Some fixes, like replacing a faulty oxygen sensor, can earn you as much as a 40 percent improvement in miles per gallon, according to the DOE's Web site fueleconomy.gov.

Maybe the easiest way to ensure your car is getting the most miles out of the fuel put into it is to keep your tires inflated on the high side of manufacturer recommendations.
Also nice:
"Nothing's as effective as driving less," Hathaway said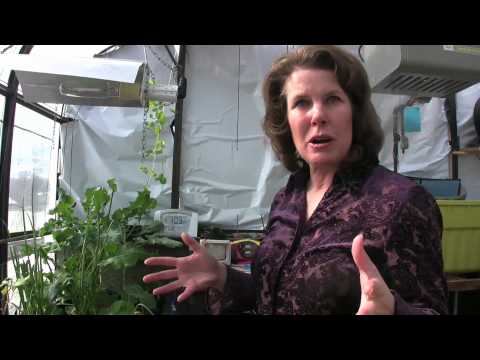 Fish poop makes good vegetables. That's what I learned about aquaponics from the Camera this week.
You know about hydroponics, but here's the picture with aquaponics: you're growing veggies and raising fish at the same time:
The vegetables and the fish work together in a sustainable loop. The fish waste provides fertilizer, which is made accessible to the plants via bacteria that convert the ammonia to nitrates, which feed the plants. Once the system reaches bacterial balance, the only work is tending the plants.
That way, you're not using chemical fertilizers, like you might in hydroponics.
Boulder's Sylvia Bernstein uses aquaponics to grow pepper plants, six kinds of heirloom tomatoes, English cucumbers, peppers and herbs "with nothing but fish waste and trout chow."
Trout chow! Mmm! Read more