You are viewing the archive for the G.I.Y. category.
---
The talented Nick Switzer completed a DIY upside-down tomato planter according to specs from a plan we posted here earlier — a great gift for Mother's Day.
Hope Mom loved it, Nick!
Hey! It's a guest post from Camera editorial page editor Erika Stutzman.
This weekend, we took advantage of a program that swaps carbon-meanie gasoline-powered lawnmowers for small, efficient electric ones.
We have a small yard; we leave the grass clippings mulch to keep them out of landfills. We have an organic garden that feeds us. We are persnickety about our water usage here in the dry American West, using as little as possible and only in the cool of early morning or late evenings.
But yes, our mower was powered by gasoline. Even last summer, when gasoline cost about $100 a gallon. Because in addition to trying to be green, we are also thrifty. The mower was from the 1970s and was a hand-me-down from our children's grandpa; it was too small to be very useful (except for small yards, like ours) and it took some serious muscle power, as it was both old, and a push mower.
You may recall that a while ago, I started working on a DIY terraced urban farm, which is my fancy-talk for four shelves on which we're going to put containers.
The idea was that I wanted an attractive, mostly out-of-the-way place to put plants so they'd get sun that they need — while also protecting them a bit from the high Colorado winds that we get. (If you hear faint tink-a-tink chimes from the north in Boulder, duck; it's not an ice cream truck — it's my neighbor's wind chimes migrating south at about 70 mph.) Read more
Ah, graduation! The time when many a privileged student celebrates his or her exit from Boulder by summarily throwing away hundreds of dollars' worth of Target purchases.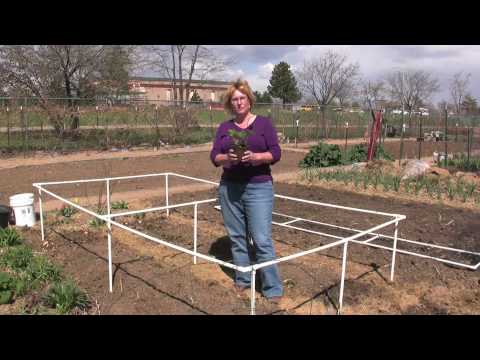 Carol O'Meara, gardening columnist and host of stellar gardening in Colorado tips videos, pulled together a list of Denver/Boulder-area plant sales, and here are the Boulder ones: Read more
The world of solar is about to open up to a whole new group of Coloradans thanks to a bill that is on the way to the governor's desk to be signed.
People with shady roofs, renters, condo owners and even folks with too-small roofs (or even no roofs, like farmers who want to offset their irrigation pumps) will soon be able to buy a share of solar panels that are installed in nearby "community solar gardens."
People who buy into the gardens will get all the same benefits as people who slapped the PV panels directly on their roofs, which means they can get rebates and incentive payments as well as have the electricity produced by the solar panels credited directly to their energy bill.
Solar gardens could be sprouting as soon as next fall, according to the bill sponsor, Claire Levy, a Boulder Democrat.
Learn more at DailyCamera.com.
On Earth day, students at Eagle Crest Elementary geared up for the final stages of their year-long G.R.O.W. project. For the project, which stands for Gardens Renew Our World, students were each able to create their own 1 square foot garden with plants like lettuce, cabbage, radishes, spinach and marigolds.
They started in October with "Leave No Child Inside" day by holding a garden groundbreaking where students cleared a 20-by-20 foot area to get ready for the gardens. Then parents and students got together in December to build 20 planters for the project. Read more
A great post for veggie garden daydreamers over at Jacqueline's Journey. Go check it out and find at least one nugget of information that'll make your local veggie garden better this year!
7. What are good crops to grow for Colorado's climate? Colorado has cool, wet springs and hot, dry summers which is pretty annoying to the vegetable gardener.  Cool weather crops like lettuce and radish will do great if you get them going early enough but by the time late June's heat and lack of humidity come along they will require intensive watering and may even stop producing edible leaves.  I found that Collards and Kale are cool weather crops that also do very well during the summer months.  Other excellent crops are raspberries, onions, garlic, chives, shallots, tomatoes, tomatillos, potatoes, and squash.

8.What was the most difficult thing for you to grow? I have had particular problems growing peppers, eggplant, and okra.  These plants require steady warm temperatures or they will drop their flowers and/or fruit or not grow.  Depending on your Colorado micro-climate these plants may work great for you or may never get enough heat to be productive.
Found via Tall Tara!
I don't know about you guys, but the mosquitoes are trickling back into my neck of the woods. We're thinking about making our own bug repellent, so I thought I'd share a find with you.
Here is an easy repellent to make that has a shelf life of around six months. Label jars "mosquito," "tick," etc. for quick identification.

1o to 25 drops essential oil

2 tablespoons vegetable oil (olive oil is fine)

1 tablespoon aloe vera gel (optional)

Combine the ingredients in a glass jar. Shake to blend. Dab a few drops on your skin or clothing.
Read on at Care2 to find out which essential oils to pick up. Or check out this alternate natural mosquito repellent recipe, which uses grain alcohol.
So I'm making a thing.
We have a very small balcony, but it gets so much sun that it seems like a waste not to grow tons of stuff. We've already started with hanging tomatoes — don't worry, we bring them in at night still — and strawberries. But we're fired up.
This whole year, I basically promised myself I'd try things I'm not good at way more often. Sort of a masochistic New Year's resolution. Judging by the amount of times I've felt very stupid this year, it would appear to be working. In any case, growing food certainly qualifies, so we're going at it, full steam. Pictures and tales of adventure below the fold! Read more