Boulder cruiser rides
Every Thursday in the warm-ish weather, a bunch of bike-loving folks get together and ride through Boulder, wearing costumes and wishing others a "Happy Thursday." Each week, there's a theme (pirates, for example) for the costumes and decorations. Themes for upcoming rides can be found at HappyThursday.org.
The idea isn't to get too wild and crazy, but to have a good, weird, law-abiding time on bikes.
WHEN AND WHERE?
It can be tough to track down the exact start points of the cruiser ride if you're not a regular, in part because original organizers got skittish at the size of the ride — it became awfully popular — and stopped posting much public information about the ride in 2007.
From the Camera story about the closure:
Three years ago, during one summer ride, half of the Boulder Police Department's on-duty staff followed the cruisers and wrote 12 tickets for violations such as biking through stop signs, riding more than two abreast and drinking alcohol.

Generally, though, traffic officers report few significant problems with the ride.

"Actually, the people who have been riding have been abiding by the law for the most part," said Gary Stevens, a Boulder police traffic officer.
We can't speak for the ride currently, but based on past experience, a group will congregate in the parking lot of the shopping center on the southwest corner of 28th and Pearl (think Wahoo's Fish Taco) around 7 p.m. or gradually filter in to Scott Carpenter Park then or a bit later. Your best bet is to poke around on Facebook or ask your bike-nerd friends if they know what's up this week.
Sometimes groups split off in different directions, which means you ought to stick by the folks you arrived with if you want to be sure you end up in the same place. Among the many effects of this is that sometimes there are a few cruiser rides happening concurrently — and sometimes it's split into a sort of 21-and-up ride and a 20-and-under ride.
ROUTES
Cruiser rides take advantage of Boulder's bike paths, and while the rides vary, you can get an idea of what a route might look like by looking at sample routes from the past.
COSTUMES AND BIKES
Here's a pretty impressive rig, and one of the coolest-looking versions of the popular jambox-on-wheels modification.
And a colorful look at a Fourth of July ride a few years ago.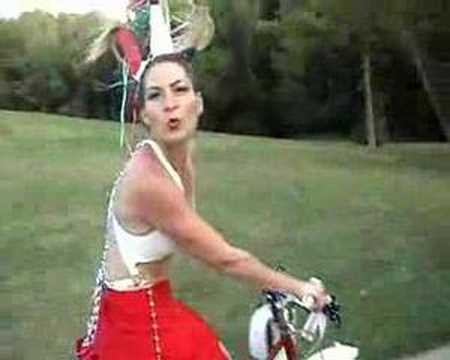 Finally, don't forget that there's nothing stopping you from having your own ride, or from starting or ending elsewhere with your own crew.