Yes,  homeowners,  it's time to think about your lawn. If you need a big patch for kids and dogs to romp on, make sure they're not getting a dose of pesticides along with the fresh air.
Here's a story by the Camera's Mark Collins  on how to take care of your big green expanse.
If you haven't cut your lawn by now, you're probably walking through calf-high grass. Spring has sprung, and the following are tips to green up your lawn care habits this year.

Weed early
When it comes to attacking unwanted weeds, "the sooner the better," said Brad Wolfe, owner of Boulder's Organo-Lawn lawn care company. "The longer you wait, the more hardened the weeds get."
Wolfe's company is the first in the area to use an organic weed control product, One Earth Weed Control.
Wolfe said Organo-Lawn was instrumental in making the organic clove-based product a selective weed-control product.
"That means it will kill the weeds, but not the grass (upon application)," Wolfe said.
He said the product works quickly on many types of weeds.
"It will kill certain thistle and dandelion in no time," Wolfe said. 
Locavores have been known to  wax poetic about the deliciousness of the pumpkins and squash they have stored in their root cellars. Yet you can't compare a rutabaga to a summer's day.  That would be a tomato or a peach.  Part of what makes those so appealing is the longing for them.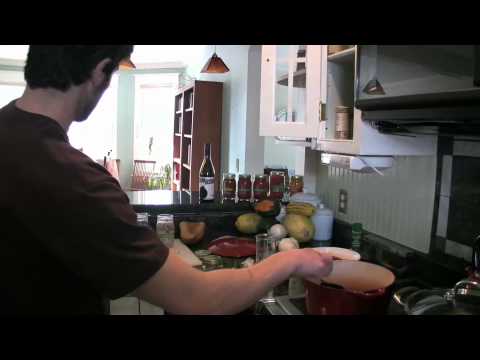 However, even when people were locavores by necessity rather than by choice, they liked to bring out a jar of summer's best now and again in the dead of winter. It was with this idea that Jim Mills and Ben Mustin started MM Local Foods with an eye toward providing products reminiscent of  Grandma's prized tomatoes. The company cans tomatoes, peaches and peppers from Colorado farms and allows you to track the specific farm they came from at www.mmlocalfoods.com .
"Keeping the food as close to its natural texture, flavor and appearance was very important to us," Mills says.
Read more at www.dailycamera.com
We don't have to tell  you that the environmentally conscious sometimes get a bad rap.  In some people's  fevered imaginings those with a greenish tinge are ascetic, sweater-clad geeks who look at the energy hogging world with a supercilious eye.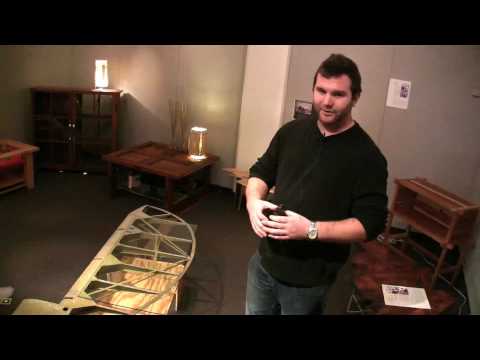 What you don't hear much about is creativity.  But that's what students in Julee Herdt's Green Technology class at the University of Colorado regularly employ when they head to the ReSource Yard for their class materials.
"As a society, we're so wasteful and we forget there's value in (discarded materials)," Herdt said.
That value might show up in coffee table made from part of an airplane wing or a table made from salvaged redwood fencing.
Today the biggest part of my salad saga was not the salad I ate — Colorado pears, local greens, blue cheese with a Dijon-white wine vinaigrette.  Rather, it was acquiring lumber to make three cold frames in the backyard.  My summer procrastination meant that I didn't get these built in time to plant some greens in July for winter-long eating.  The stuff  I'll be putting outside now will mean that I'll get a few leaves in the fall, but more in the very early spring. Although I like to believe that living in the moment is the best thing — so very intentional and all — I'm already wishing myself  into the future to eat those greens.  In the meantime,  I'll also be attempting to raise spring mix inside under the flourescent lights I generally use to start seeds of warm weather vegetables. Read more
I love Caesar salad, and not the original version without anchovies.  It's the anchovies that make this salad worth eating. And if you love these salty little fishies like I do,  it's a choice you can feel good about. Unless you eat plankton, you can't eat too much lower on the ocean food chain. Here's the Environmental Defense Fund's take on Caesar's tastiest ingredient:
Anchovies, which have short life spans and reproduce quickly, are resilient to fishing pressure and remain plentiful.

And anchovies provide a nice shot of Omega 3s — cheaply.
But don't think about getting your anchovy fix in some gloppy commercial dressing that's mostly mayonnaise.  Do what anchovy lovers like me do. Crush about half a can with the back of a spoon or in a mortar and pestle.  (Use the rest to add a savory base to spaghetti sauce.)  Add a little crushed garlic and continue to smash into a smooth paste.  Add lemon juice to taste ( I like it lemony) and smash some more. Add a nice glug of extra virgin olive oil and some freshly grated Parmigiano Reggiano.  Toss with lettuce. Torn romaine leaves are classic.  Totally nontraditionally, I really like grated carrots in this salad.  And, more classically, croutons.  While a baguette might be nice, my salad on relied on a couple of slices of organic whole wheat. I brushed lightly with olive oil and sprinkled over some Parmesan cheese. I baked at 300 degrees for about 30 minutes until the bread was crunchy and broke it  into my salad.
Salad Days: Can salad save the Earth?  No, but it's a way to look at the ways that food and environment intersect. I'm eating a salad as main meal every day for a year and writing about it. Here's to green eating  – often literally.
I believe in the power of salad.
This week, I had lunch with my sixth-grader at Broomfield Heights Middle School.
As I dished up my own lunch of fresh, local greens, peppers, celery and carrots, middle schoolers were lining up at the salad bar, piling salad in paper bowls and grabbing apples and peaches. The creamy, garlicky dressing I chose was cleverly packaged in a squeeze bottle with a small opening, making it impossible to get ladles full of dressing without spending a couple of precious lunch period minutes  squeezing.
My husband and I sat down with our son and three other sixth-grade boys, all of whom had side salads and all of whom were eating them.  A glance around the lunchroom revealed that sixth-graders eating salad is now the norm at this Boulder Valley school.
The norm.
Parents, need I say this is something of an earth-shattering development?  Those of you who have been donating to Boulder's new school lunch program and seeing your tax dollars pay for a portion of it, should take some time to appreciate what a big shift it is to have fresh food in a school lunch every day.
Salad is the norm. Read more
Craig King has a vision of a better way to eat. The former personal chef from Boulder has made a  film, "Here We Grow," that  plows fertile ground with its indictment of America's industrial food supply.  But, refreshingly, he wants to more than just preach to the locavores of the world. He hopes to use proceeds from he movie to put together a pilot project to bring healthy foods to people who can't get them easily.
"As a chef who's enthused about nourishing people, I saw there was a huge gap in the underserved community," King says. "Even if (residents) walked miles, there's no clean, healthy food."
See the film at Whole Foods  on a demo table on Tuesday, Wednesday or Thursday this week in Boulder or buy it from the store.
Read more about "Here We Grow" at the Camera.