I seriously love to thrift. It's partly because I don't make a ton of money but mostly because I love the challenge of it. Getting something awesome — and often practically brand new — for a fraction of the cost just feels, somehow, like you're winning. The game. Whatever that is.
Oh, and it's also awesome for the environment. And in Boulder, there is no less than 30 thrift-type stories. You read that correctly — 30. The thrift stores cover the entire spectrum from clothes (check out Rags Consignment or Buffalo Exchange) to bookstores (The Bookworm and Redletter Secondhand Books).
If you want to check them all out — leave no thrift store  unvisited — search no further than Eco-Cycle, which publishes two awesome maps to help you out: a Tour deThrift for both Boulder and Longmont.
Awesome.
Would you take a bus to the mountains to hike in the summer? A "recreation shuttle" that would connect Boulder with Hessie Trailhead and Brainard Lake is just one recommendation of a new mountain transit study released by Boulder County.
Other recommendations were more commuter oriented: a bus from Jamestown to Boulder, from Ward to Nederland and from Lyons to Longmont, among other things.
The county is asking for public input on the plan until Dec. 5. You can read it at the county's Website and leave comments there, or learn more about the plan at DailyCamera.com.
Hall Ranch is about to get bigger. The favorite hiking and biking destination southwest of Lyons will grow by 577 acres, the county commissioners decided Tuesday.
The property is just one of a bunch on the county's wishlist — which until Tuesday, county staff weren't sure they'd have the money to buy.
But it looks like voters have passed Issue 1B, a sales tax that will bring in more than $5 million a year for the next 20 years so the county can buy more land.
Read more about the tax and Hall Ranch's expansion at DailyCamera.com.
Never seen a wolverine? You're not alone. Wolverines are very, very, very hard to find. They're shy, for one thing, and they're loners. They can travel for hundreds of miles over a few weeks, and roam through some of the harshest alpine environments.
But it may soon become even harder to see one. If we don't reduce carbon emissions, the spring snowpack where female wolverines build their dens to have their young will disappear by the middle of this century — and so will the baby wolverines (called kits).
A scientist at the National Center for Atmospheric Research in Boulder did the study that showed these depressing results. Read more about it at DailyCamera.com.
Last year in Boulder County, the question of whether or not to allow genetically modified sugar beets to be grown on land owned by the county was hotly debated. Real hotly. (Like, hundreds of people showing up at public meetings that stretched until 2 a.m.)
So far, the county hasn't decided what to do. In the meantime, staffers are working hard to even figure out what sustainable agriculture means. This weekend, in an effort to try and figure out just what the definition of "sustainable agriculture" is, the county hosted a community meeting, where a married couple from California took the stage.
An odd couple: she is a crop geneticist, and he's an organic farmer. And rather than the either-or conversation that normally goes on about GMOs and organic farming, this couple — Pamela Ronald and Raoul Admanchak — say the two can go hand-in-hand.
True, the idea of growing genetically-modified sugar beets organically doesn't make a whole lot of sense, because sugar beets are genetically modified to resist certain herbicides. So, if you're not using a weed killer, you can hardly care if your crops are resistant to it.
But in the bigger picture, the couple argue that the two things are not mutually exclusive. That's because some GMO crops can be made to be resistant to drought — or flooding — and create higher yields, which could be key as the globe continues to warm and population continues to grow.
Read more about the local presentation by Adamchak and Ronald at www.dailycamera.com. Read about the couple's book, "Tomorrow's Table," at Ronald's blog, or check out a video of a presentation given by the two after the jump. Read more
LEED-certified green buildings are great for the environment, but as it turns out, they maybe not great for your cell signal.
At the University of Colorado, where the number of bars on your cell phone goes up and down as you walk across campus, things are particularly grim in the newly constructed LEED buildings.
For most CU students, spotty cell phone reception has become the norm on campus and has gotten worse with the construction of new environmentally friendly buildings. University officials say they're hard at work on ways to improve cell phone service on campus.

A recent analysis of signal strength found that there are weak spots across campus, particularly in newly constructed buildings that meet LEED environmental standards, said Greg Stauffer, communications manager for CU's Information Technology Services.

"The problems in LEED buildings had to do with improved insulation and UV filtering windows affecting signal strength," Stauffer said. "It was an unexpected effect of the new construction, but we're working on addressing the issue as quickly as possible."
Read more about CU's cell signals at ColoradoDaily.com.
The city of Boulder is trying hard to get people to bike more, to walk more or to take the bus. They encourage RTD Eco Passes, they sponsor Bike to Work Day… but their latest campaign takes the cake for wacky. (Or cool, depending on your perspective.)
The "Driven to Drive Less" campaign — which will launch in a few weeks — will try to convince people to choose one day a week to not drive their cars based on color. Blue cars should stay at home Mondays. Silver cars should take a break Tuesdays. Red on Wednesdays… you get the idea.
The city wants to get thousands of Boulderites to participate. Would you give it a try?
Read more about the campaign at DailyCamera.com.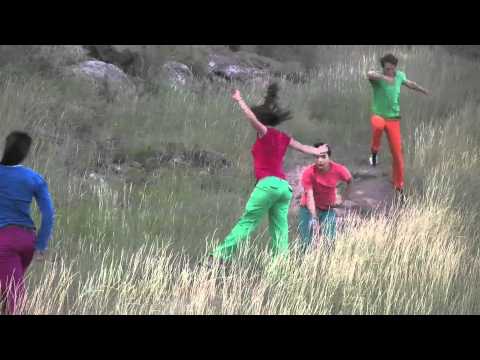 Here's a video of, well, people frolicking on open space near Boulder. It's all part of this crazy thing known as the Boulder International Fringe Festival. Check it out for yourself: www.boulderfringe.com.
Yesterday, the Sierra Club released its "cool schools" ranking of the most eco-awesome colleges and universities in the country. Last year the University of Colorado at Boulder ranked #1. This year, #13.
CU wasn't the only one on a roller coaster ride. According to a blog on the Chronicle of Higher Eductaion's website:
Last year, the University of Colorado at Boulder ranked No. 1, while Green Mountain College was 35th. This year, CU is at 13th and Green Mountain is tops.

Dickinson College went from 19th in 2009 to No. 2, and Stanford University zoomed up from 26th to 5th. Yale University went from 14th to 26th, and Emory University fell 10 notches to 42nd.

You might assume from such fluctuations that sustainability programs went haywire in the past year. But little changed, it seems, other than Sierra's ranking methodology. Energy issues were given more weight in this year's survey, Sierra editors say, but that answer probably won't satisfy the longtime critics of these green ratings.
And the new emphasis on energy sources are what hurt CU. Dave Newport, director of CU's Environmental Center, told the Camera that the university is at the whims of Xcel Energy, which still relies heavily on coal.
Read more about CU's slip in Sierra's green rankings at DailyCamera.com.
After years of Xcel Energy arguing that there's no conceivable way they would shut down the coal-burning generator at Valmont Station east of Boulder (in part because the boiler is one of the most efficient in the utility's system), the company announced Friday, that actually they will shut the plant down by 2017.
For activists who have staged a number of protests at the plant over the last couple of years, the announcement was good news. (But better news, some said, would have been an announcement that the plant, which spews 44 pounds of mercury into the air every year, would close immediately.)
The three natural gas-fired generators a the plant will continue operating.
Read the full story at DailyCamera.com.