On the last Tuesday of the first month of the new year, Green Drinks convened at the historic Hotel Boulderado — the perfect locale for a "Shining" remake in my opinion — for another round of high energy, semi work-related, sustainable fun.
Before I could fill out my nametag, I met Paige, newly relocated to Boulder, who informed me that Green Drinks is, in fact, international. It's true. If the bubble bug bites hard enough, Boulder Green Drinkers can leave Colorado and network their way across the globe, from Kazakhstan to Colombia to Canada, where a multitude of Green Drinks evenings await. Paige, who's two weeks into her new job at a certain well-known organization dedicated to not littering, suggested it would be a great way to travel. Keep that in mind when ramping up your carbon footprint.
I'd barely wrapped my head around international Green Drinks, when I met Vicky from Blue Drinks. Yep, blue. Vicky, whose turquoise eyes perfectly matched her beaded necklace, lives in Denver and misses the ocean, deeply. So deeply, in fact, that she's united local ocean-lovers in an effort to save the big blue liquid that surrounds us. According to Vicky, even though we can't see the ocean from here, a mile high,  it's still worth saving.
Kira Davis, a massage therapist wearing a pink smock, says she's been practicing her craft since she was three, thanks to her ailing mother. Having just moved from Hawaii, she too misses the ocean, and can't wait for warm weather so she can bike to Fort Collins and swim across Horsetooth Reservoir. Offering 25 percent dscount massages to Green Drinkers who chose planet-friendly transportation that evening (extra incentive, as if any was needed), Kira's really into worms. She claims to have 500 pets, all of them, of course, nematodes. She's extremely passionate about worm composting and hopes to promote this planet-saving measure in City of Boulder apartment complexes.
Thanks to the very tall, well-tailored realtor who wears a suit even on weekends, the evening ended on a literary note, courtesy Zig Zigler: "You have to be before you can do, and you have to do before you can have."
A welcome respite from last year's holiday grind, the 2011 Green Drinks debut was a blurry celebration of work-inspired socializing, which of course, makes it legit.
Or something like that.
Tomorrow is Boulder's Third Annual Winter Bike to Work Day. So add an extra layer, wear something windproof and make sure your pant leg won't get caught in your bike spokes ( because even if you're doing something rad for the environment like commuting by bike, you'll look dumb if you endo–like THIS poor sap–for such a lame reason).
So what exactly is going on with this event? From 7 to 9 a.m., local businesses will be providing warm drinks and breakfast vittles. Find out which businesses are participating after the jump. Read more
This is one of my favorite New Economic Landscape traditions — viva la depression! — the announcement of no-fee days at our country's fine National Parks.
The 2011 fee-free dates will be the weekend of Martin Luther King, Jr. Day (January 15-17), National Park Week (April 16-24), the first day of summer (June 21), National Public Lands Day (September 24), and the weekend of Veterans Day (November 11-13).
As if we haven't had enough to eat and drink this month, Green Drinks capped November off with another enjoyable round of sustainable gluttony. It was a blast.
I arrived at Jill's early for my first Green Drinks, grabbed a seat at the bar, and immediately a loud voice behind me said, "You can't sit there, that's my seat!"  Luckily Stu, who's extremely tall, was joking. Later, when I asked how many solar panels there are in Boulder County, and Stu jokingly came up with 975,674, I realized he must often think on his feet, a skill that's handy for selling things, which he does as a real estate agent, in lieu of his childhood dream to be an outdoor photographer and writer, which he also could have been joking about.
Next, I talked to Megan, who works for the City of Boulder's newly dubbed Local Environmental Action Division, a mouthful, says Smartregs, a new ordinance requiring rental houses to lower energy consumption by 2018, is the most exciting green thing to hit Boulder. Let's get through 2012 first…
After chatting wind-power with Ben from the Rocky Mountain Institute, I asked the guy next to me what he did. When he said, "I own this place," I thought he meant the City of Boulder. Turns out he meant the St. Julien, which is basically the same thing. Besides the St. Julien, Richard also owns Benny, a german short-hair named for Jack Benny, who has a lot of energy.
That pretty much wraps up Green Drinks November. Lots of interesting, entrepreneurial folks gabbing and having a grand old time at Jill's. If you missed it, you missed out!
Well, the winter has gone and dipped, so it's time to remind you lovely people that we have plenty of tips for eco living on our resource pages — particularly for biking in the winter.
Get yourself in the habit and you'll be all keyed up for next year's Winter Bike to Work Day.
Finally, here's a great and detailed video with tips on how to dress for winter biking — a major deterrent for some of us! Gotta strike the balance between arriving drenched in sweat and falling over dead on the ride, frozen solid into a bikecicle.
I found the video on the Meetup page for the Boulder & Denver Commuter Cyclists, who have an event next Monday.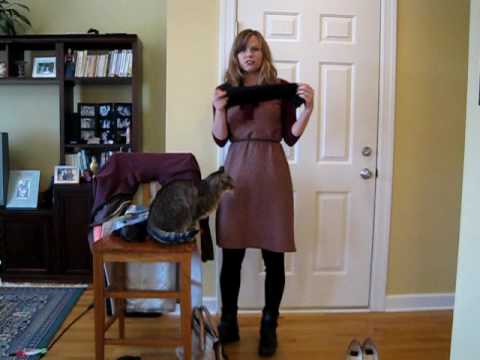 I don't usually take much notice of the various donations and so on given in town — we're fortunate enough to live in a place where that's pretty common.
But in this case, I guess I was just a little surprised because it's Ted's Montana Grill, which has just arrived in town, donating to a name we have here on BGB pretty frequently: the Center for ReSource Conservation. The money was raised from beverage sales at the restaurant's preview — so maybe Boulder's livers should be co-signers on the check.
I'm not eating much meat right now, for environmental reasons, but if you're a carnivore, it sounds like you could do worse than eating at Ted's.
WYOMING
Here's a bit of a surprise: In Wyoming, they're protecting prairie dogs. OK, actually, they're protecting black-footed ferrets, but black-footed ferrets find prairie dogs delicious, so the p-dogs are part of the bargain.
UTAH
Two Utahns return home from Washington, D.C., to walk 350 miles in an attempt to raise support for climate legislation.
NEW MEXICO
New Mexico has sort of joined a regional cap and trade agreement. But the people on the board that passed it are appointed by the governor — and the new boss is on record against a cap and trade agreement. Here's an early LA Times primer on the Western Climate Initiative.
A permit for a coal mine on Navajo land has been revoked after a judge found the impact study to have been insufficient.
And EcoNewMexico.com's author has just put together what sounds like a real honey of a home water conservation system.
UPDATE: Well, isn't this something?  County issue 1B is now passing by a small margin.
Well, those who were doing coffeeshop prognosticatin' appear to have been right: Boulder Issue 2B, which replaces the Xcel franchise fee with a tax, passed easily.
The measure will keep revenue from Xcel flowing into Boulder's budget through 2015, giving the city time to study alternative sources of energy. Options could include taking municipal control of the city's supply of electricity, or working with Xcel on a new franchise agreement that includes more renewable sources.

"This is a clear message to Xcel," City Councilwoman Lisa Morzel said Tuesday night. "Are you going to partner with us or not?"
County issue 1B, which would fund open space purchases with a tax increase, appeared to fail late last night, but has pulled ahead by 465 votes.
If Issue 1B fails, it will be the second time in as many years. A similar open space tax initiative was voted down in 2009 with 52 percent of voters opposing the measure. That defeat marked the first time county voters had turned down a tax to support open space since 1989.

Longmont resident Dave Larison, a longtime opponent of open space taxes, said Tuesday night that he was pleased Issue 1B appeared to be failing.

"For two years in a row now, the voters have spoken against open space taxing and spending," he said. "The voters have sent a loud message that they don't want any more open space."
Though Dave and I share a name, I'm not sure the rejection means that voters don't want any more open space so much as it means that the voters are prioritizing their taxes and open space finished behind human services in that race. In any case, there's your greenish election 2010 roundup. Quick and painless, right? Now go listen to your phone not ring at dinner time.
Turns out this one's a ride!
Lately, it sounds like people have been losing sleep over what they're sleeping on:
"Eco-friendly bedding and mattresses really just started being popular in the past year," said Steve Savage, founder, president and store manager at Ellie's Eco Home Store in Boulder.

"Where they have been educated about organic foods in the past 30 years, people are just starting to learn what chemicals are in their houses in regards to carpeting, bedding and furniture. We're learning stuff every week. It's still an ongoing educational process."
Read more about eco-friendly bedding over at the Camera.
A poacher killed — slowly, inexpertly and with a single arrow — the bull elk widely recognized as the current largest elk in the area. Now, officials are offering a reward for information leading to the poacher's identification:
"This was probably the biggest bull in the Estes Valley," said Rick Spowart, district wildlife manager for Estes Park. "For about a month, I saw him every day on the golf course with a big harem, bugling and doing the whole rut thing. Whoever did this stole a great watchable wildlife opportunity from all of us."